Today's review was a spontaneous weekend buy from The Body Shop. I haven't shopped there for ages but mannn, do they really have a lot of good smelling products or what?! They really have improved their range, it's not just bath, shower and body butters anymore – I will definitely go back again soon!


I bought the Ginger Sparkle Lip Balm – one of the three Limited Edition balms brought out for Xmas 2012. Look how cute it is!


I'll be honest, the thought of a ginger lip balm does NOT sound that appealing – when I bought it I thought it was going to be peach flavoured, doy, that'll teach me to judge by colour!
But it's surprisingly very nice..

It smells like old-school sweets, zesty sherbet and candied peel and doesn't taste too gingery at all – so much that I wouldn't call it Ginger Sparkle, I'd call it "Christmas" flavour.. (again, a sign why I am in Finance and not Branding..)
Why did I buy it?

I chose this for several reasons…
1) All my other lip balms are either clear or pink-tinted, so I thought it would be good to expaaand my beauty collection. (as if for some reason, I did not already own enough lip balm..)

2) The shape of the balm – it's a full on sphere, similar to Balmi (which I reallly want to try, they look really cute!) It's really easy to apply to both lips at the same time and the feeling is amazing – very soothing.
3) It's soo cute, it looks like a teeny-tiny mushroom – and I am actually a bit of a mushroom fiend. I have a sort-of tiny but HUGE PASSION for toadstool shaped anything.. No, not bows and butterflies like normal girls, me? I'm allll about mushrooms! Hmm I think I need to re-evaluate my personal taste…
Overall?
A nice little buy, its moisturising skills are not quite A*, more a B+ so it's not the one for crispy situations, but it will do the trick when your lips are in need of a boost.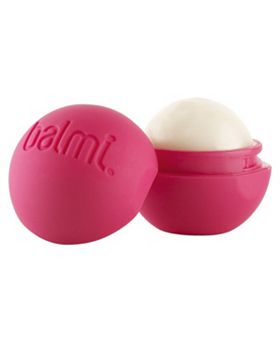 The dome application is the bit that I L.O.V.E. It definitely makes me want to upgrade to the Balmi as the dome application is really so convenient! No need to get your fingers messy and especially handy for those gals with long nails.

I love long nails but it makes regular things like applying Vaseline or contact lenses very awkward!!


Plus – it's very good for multi-taskers who are applying it on the run. Stick and pot lip balms require more from your hand-eye coordination when moving, but domes would allow for easy application even when literally, ON THE RUN.


Again, this was reduced in The Body Shop sale at £2 – what.a.bargain.



Anyone else tried a spherical lip balm yet? Anyone tried my theory – the ability to use one while running?!


xXXXx